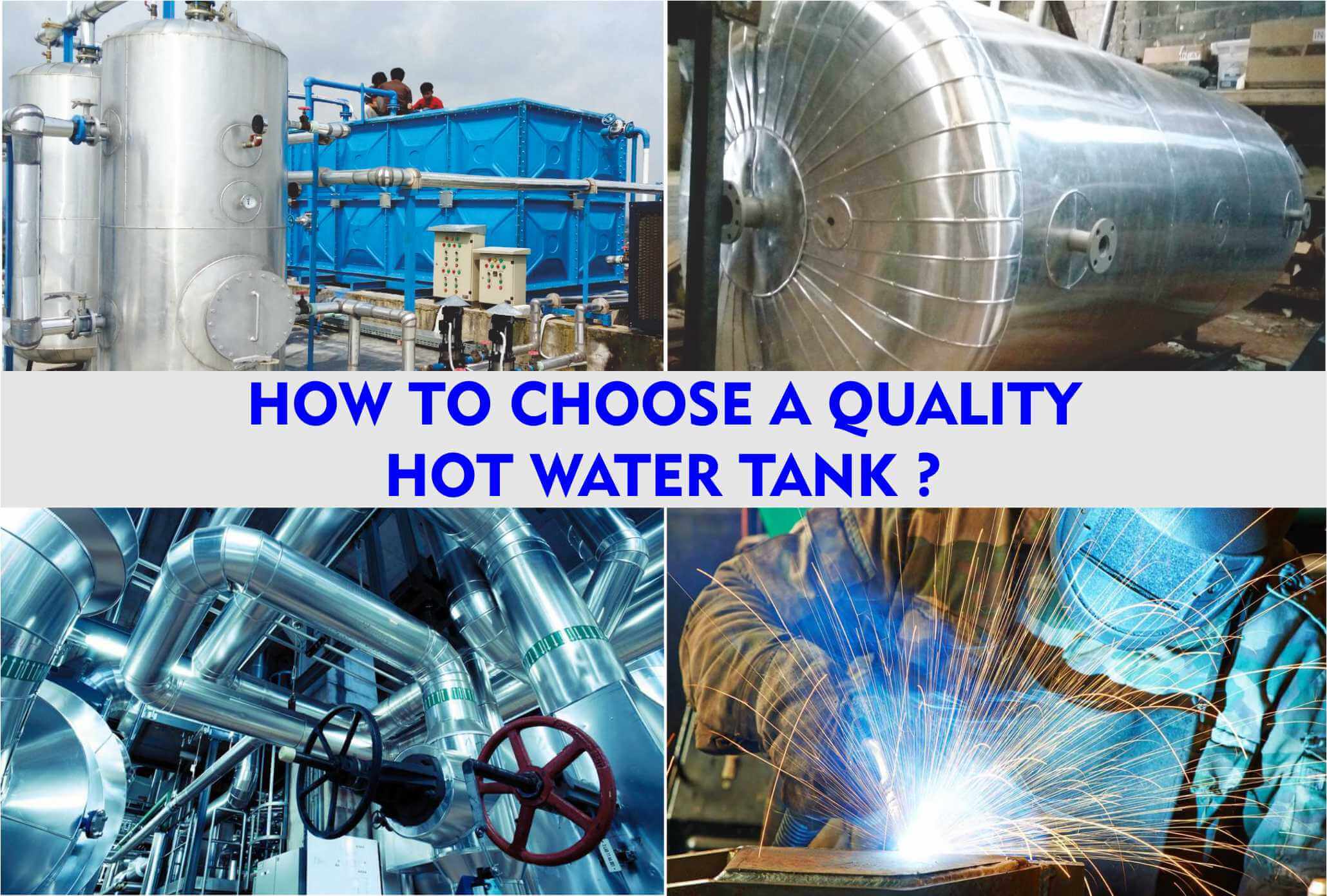 HOT WATER STORAGE TANK
The conventional water heater with storage tank remains the most popular type of water heating system for residential homes. Here you will find basic information on how the hot water tank works; what criteria are used when choosing the right model; and some installation, maintenance and safety tips.
The hot water storage tank can be heated directly or indirectly.
A hot water storage tank that is heated directly is a combination of a vessel and a heater, for example a boiler, heating element, or heatpump water heater.
An indirect heated heat tank incorporates one or more internal heat exchangers, which are connected to an external heater, such as a heat pump, gas, oil or biomass boiler, solar panels, district heating, or a combination of both. (source: www.ehi.eu.com)
The basic theory for a hot water tank is that the water that is already high in temperature will be in the upper area of ​​the hot water tank, and the lower temperature will be in the lower area.
In this article, we only discuss the pressured hot water tank.
HOW PRESSURED HOT WATER STORAGE TANK WORKS
This hot water storage tank operates by releasing hot water from the top of the tank when you turn on the hot water tap. To replace the hot water, cold water enters the bottom of the tank, ensuring the tank is always full. For heating energy sources include natural gas, propane, fuel oil and electricity.
Because water is continuously heated in the tank, energy can be wasted even if the hot water outlet does not flow, this is called heat loss. In this regard, the insulating quality of a hot water tank is very important.
The heat loss factor in a hot water storage tank with a large tank volume will affect the calculation of energy costs for a certain period.  Especially for commercial applications such as in hotels, hospitals, and the like.
CHOOSING WATER HEATER WITH WATER STORAGE 
Choosing a hot water tank for commercial needs you may also need to consider the following factors:
The need for hot water, especially during peak demand
The water heater system and hot water piping that you will use, because the wrong system can result in a hot water system not working optimally as expected
The type of tank you will use, pressurized or non-pressurized tank
Water quality at the installation site, because it is related to the hot water tank material will use mild steel or stainless steel
The climate at the installation site, as it relates to the insulating quality of the hot water tank
Warranty and after sales service of the hot water tank product
INSTALLATION AND MAINTENANCE
Correct installation and maintenance of the water heater system can optimize its energy efficiency.
Correct installation depends on many factors. These factors include the type of fuel, climate, local building regulatory requirements, and safety concerns, especially those related to combustion of gas and oil fired water heaters. Therefore, it is best to ask a qualified plumbing and heating contractor to install your storage water heater.
If you want to do the installation yourself, it is better to first consult with the water heater manufacturer. Manufacturers usually have the necessary installation manuals and instructions. Also, contact your town or city for information about obtaining a permit, if necessary, and about local water heater building codes.
Regular maintenance or servicing of water heater systems can significantly extend the working life of your system and minimize efficiency losses.
Regular maintenance of your storage water heater, depending on the type / model you have, some of the things that you might generally do are:
Check the quality of raw water by periodically bringing water samples to the laboratory
Routine checking of hot water tank accessories, such as expansion valve, thermometer, auxiliary heater, magnesium anode and sensors,
Perform regular drains to clean the sediment that has formed in the bottom of the water tank hot
SOME OF THE BENEFITS OF USING THE HOT WATER TANK
Provide hot water for simultaneous use, for example when several outlets at a time the same time;
Flexibility of use: hot water tank can provide hot water immediately;
The hot water in the water tank will be released at exactly the desired temperature;
A good insulated hot water tank is a great way to store energy:
These tanks can be coupled with an electric or heat pump element, and work on when electricity is most abundant and cheap;
Hot water tanks can help reduce energy consumption. This is because less is required energy to keep water warmer, once heated, than it takes to heating water from cold water temperatures.
DETERMINE THE MANUFACTURER OR DISTRIBUTOR OF HOT WATER STORAGE TANK
We PT Graha Mitra Abadi are the right choice as a partner for you to make a correct hot water system so that you can minimize the cost of hot water.
Our product quality, after sales service and experience are guarantees for you to make your choice.
As a distributor of hot water tanks we have handled dozens of major projects throughout Indonesia, from five-star hotels, hospitals, villas, guest houses and others.
In addition, we are also a distributor of AO Smith and Ecoheat brand heat pump water heaters. This brand heat pump has also supplied dozens of major projects throughout Indonesia. And once again the quality of the product and after sales service is our mainstay as a distributor of this heat pump.
The relationship between the two main components of the heat pump hot water system in general will make consumers more comfortable partnering with us. Because the heat pump water heater system is handled by one contractor, it minimizes the occurrence of mutual blame if a hot water system is handled by 2 different parties.
PT Graha Mitra Abadi as the distributor of hot water storage tank brand Ecoheat provides services related to hot water systems, both for planning and existing applications.
These services include:
Consultation for the planning of a correct hot water system
Calculation of the estimated heat pump water heater requirements, hot water tank requirements, plumbing systems and their relationships
Provision of heat pump water heater and hot water storage tank
Supervision of the heat pump system and hot water storage tank
Product warranty and after sales service
DISTRIBUTOR OF ECOHEAT BRAND HOT WATER STORAGE TANK
This Ecoheat brand hot water tank has several options based on its type and capacity.
Hot water storage tank based on material:
SS400KS Mild Steel
Stainless Steel SUS304 / SUS 316
Hot water storage tank based system:
Hot water tank without pressure (unpressured tank)
Pressured hot water tank (pressured tank)
Hot water storage tank by shape:
Vertical tank
Horizontal tank
Hot water tank based on capacity:
Graha Mitra Abadi can produce hot water tanks ranging from a capacity of 500 liters to 10,000 liters
Pressure Tank Specification (Working Pressure 5 Bar)
Accessories hot water storage tank :
Insulation: rockwool / equivalent 50 or 80 mm
Outer layer: 0.5 or 0.8 mm aluminum sheet
Manhole, safety valve, auxiliary heater (optional), lifting lug, pressure gauge, ladder for horizontal tank
Warranty hot water storage tank:
For the convenience of our consumers, we guarantee the hot tank product. The guarantee is :
1 (one) year tank leakage warranty
1 (one) year tank completeness warranty
Guarantee applies to terms and conditions